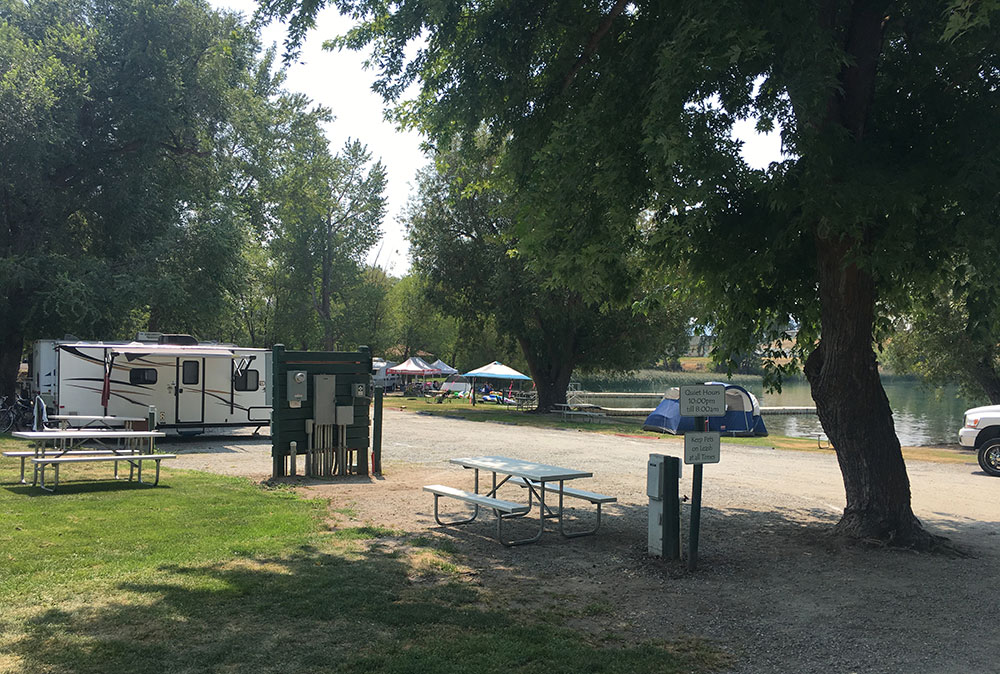 Wapato Lake Campground
***CHELAN COUNTY BURN BAN CURRENTLY IN EFFECT. NO CAMPFIRES OR CHARCOAL BRIQUETTES PERMITTED. GAS BARBEQUES OKAY.***
***TO BOOK A RESERVATION, PLEASE EMAIL WLC@MANSONPARKS.COM OR CALL (509) 687-6037.***
CHECK IN TIME 3PM. NO EARLY CHECK INS. CHECK OUT BY NOON. 
Enjoy a camping trip near beautiful Wapato Lake in Manson. This quaint campground offers economical sites which can accommodate up to 4 people. Due to the small size of the campground, only tents are permitted in tent sites, and only RV's are permitted in RV sites. RV accommodations offer water and power hookups, but no sewer hookups at this time.
153 E. Wapato Lake Rd., Manson WA 98831
2 Miles North of Lake Chelan off of Wapato Lake Rd.
To reach us…
*April 15-September 30: 509-687-6037/ wlc@mansonparks.com
*During the winter months, the Manson Parks office is open M-F, 10am to 2pm. If you call after 2pm on a Friday, your call will not be returned until the following week.*
Bathrooms
Showers ($0.25 for 2-3 minutes)
Swimming beach for guests only
Boat launch (free, no overnight camping)
Parking stalls
Gazebo at boat launch
On-site host
4 people, 1 vehicle, and 1 sleeping apparatus (RV/camper/tent) per site
Pets welcome. Leash required and owners must clean up after pets.
$25 per night for tent sites.
$30 per night for 30 amp RV sites (with water). Includes picnic table & fire pit.
$35 per night for 50 amp RV sites (with water). Includes picnic table.
$115 per night for group site (2 RV sites, 1 with 30 amp power, 1 with 50 amp, plus 2 tent sites).
$5 non-refundable administration fee per site.
Holiday weekends require a 3-night minimum stay. (**No alcohol permitted on Memorial weekend.**)
2 night minimum on weekends.
Opens April 15 and closes September 30.
Applicable sales and lodging taxes are no longer included and will be added to your total.
153 E. Wapato Lake Rd., Manson WA 98831